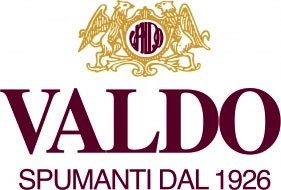 PROSECCO SUPERIORE VALDOBBIADENE EXTRA DRY CUVÉE 1926
D.O.C.G.
Product description
It was 1926, when the first bottle was uncorked with the start of a great company. This date combined with Valdobbiadene of which we are so proud, and "Prestige" are behind the new Valdo Spumanti1926, a Superior Extra Dry Prosecco wine: a tribute to our history and your palate
Production area
Accurate selection of grapes coming from the most prestigious wine areas
Altitude and exposure of the vineyards
250 m Valdobbiadene. 80 m Conegliano a.s.l.
Soil
Quite calcareous/clayey and morenic in Valdobbiadene, clayey in Conegliano
Grapes/Blend
Glera
Harvest period
During the second half of September
Vinification
Short maceration on the skins (closed press) followed by soft pressing with free-run must
Yields
13,500 Kg/ha (4.8 tons/acre)
Ageing
5-month Charmat ageing followed by 3 months in the bottle
Alcohol level
11%
Color
Straw yellow colour with gold hues
Bouquet
Typical flavor of ripe fruits: apple, pear, peach; and exotic fruits: banana and pineapple
Flavour
Well balanced softness and roundness with fresh and persistent fruity flavour
Serving suggestions
Chill the wine gradually without causing sudden changes in temperature to enjoy the product at best. Do not store the bottle for long periods in the refrigerator. Flûtes are the ideal glasses to appreciate the wine to its greatest extent. The ideal serving temperature is 6-7°C.
Food matches
Excellent aperitif wine, ideal for all occasions also with snacks. Decidedly matching first courses, in particular risotto. Ideal at the end of the meal with fruits, such as peach and Prosecco